What they say:
TWO SELECTIONS OF OUTPUT TUBES: 6L6GC(5881) AND OPTIONAL 6CA7(EL34) TUBES.
By switching two selectors inside of the cabinet, you can use either of 6L6GC or 6CA7 (EL34) , and LED indicators on the front panel will show you which tube is applied.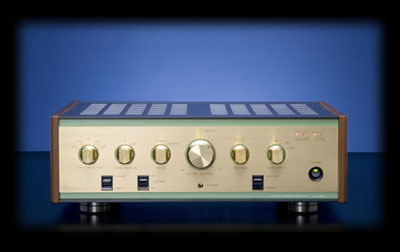 POWER AMPLIFIER DIRECT SWITCH & INPUTS.
"PREAMP-IN" terminals on the rear panel allow you to use CS-600 as a power amplifier.
By switching a selector on thr front panel, by-pass all the functions only excepting a Volume control.
A WIDE RANGE OF SPEAKER APPLICATION
Multi output impedance selector: 4/6/8/16 ohms.
FLAT AND WIDE FREQUENCY RESPONSE
A wide-ranged and flat frequency response upto 100KHz is enough capable for future digital audio format such as SACD/HDCD.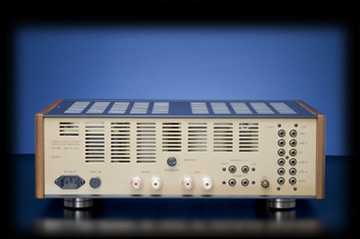 OTHER FEATURES
Twin-triode tube 6CS7 for the first-stage amplification.
WBT type speaker terminals.
Heavy-duty output transformer for 50W grade amplifiers.
Large capacity choke-coil: 5H350mA
Dumper tube 6CJ3 (for Colour TV use) is applied to delay a supply of high voltage (B-Voltage) to output tubes in order to protect output tubes from damages and to longer the life.
All high-end audio grade electrical components (condensors, resistors)
Operation lamp indicator
Succeeding a front design of CS-300/CS-300X.
24K Gold-Plated Knobs.
Side Wood-Panels.
FIVE INPUTS
CS-600 IS EQUIPPED WITH 5 LINE INPUTS(RCA unbalanced) PLUS TAPE MONITOR.
FULL FUNCTIONS FOR INTEGRATED AMP.
Power Amp Direct Switch. (All functions by-pass only excepting Volume control)
Muting Switch.
Stereo/Reverse Switch.
Variable Output Impedance: 4/6/8/16 Ohms.
Tape Monitor Switch.
Bass Boost Switch.
Headphone Output.
Speaker/Headphone Selector Switch.
Tube Indicator Lamps.
Operation Lamp Indicator.
CS-600 SPECIFICATIONS
TUBES EQUIPPED
(4) 6L6GC (5881) SOVTEK,  (EL34/6CA7 – Option)
(4) 6CS7
(1) 6CJ3
OUTPUT POWER
32W x 2 (6L6GC) at 1KHz.
28W x 2 (EL34) at 1KHz.
FREQUENCY RESPONSE
10Hz – 100KHz. (-0.1dB)
DISTORTION
0.7%(10W)
INPUT SENSITIVITY
900mV at 20W
OUTPUT IMPEDANCE
4/6/8/16 Ohms (Selectable)
POWER CONSUMPTION
WEIGHT
22.5 Kgs.
DIMENSIONS
450 (W) X 360 (D) X 142 (H) mm
ATTACHMENT
Detachable AC Power Cable x 1